Uptown Parksuites - LOCATION
Uptown Parksuites Is located at Uptown Bonifacio, BGC, Taguig City.
Uptown Parksuites is located in 38th street corner 9th Avenue in Fort Bonifacio Global City, Taguig. This area in Metro Manila is popular for its high-end shops and corporate offices. Therefore, Megaworld specifically chose the location for developing Uptown Parksuites to be right in the middle of the retail and business district in the country. Everything you could ever need, whether it is for business or leisure, is available to you the moment you step out of this condominium.
 Nothing beats the convenience of being located right at the heart of an urban township, especially for the true-blue city dwellers. In fact, you can get a great view of the nearby business districts such as the Makati CBD and Fort Bonifacio area from the condominium tower. BGC, as Bonifacio Global City is most commonly referred to as, is the financial district of Metro Manila. Therefore, there are plenty of commercial and business developments within the next few kilometers from this area. This is advantageous for the residents of Uptown Parksuites since your ideal destinations (for work or play) are within a few steps away.
The Bonifacio High Street is the central attraction in this district. In fact, it makes up the physical core of the BGC. This serves as a matrix of high-end offices, retail outlets, and residential buildings, just like Uptown Parksuites. The Retail Promenade features landscaped areas that people can hang out in and enjoy a laid back afternoon amidst the bustling city. There are also several landscaped areas and parks within the next few blocks.
The accessibility to educational institutions, health and medical facilities, and offices offer practicality for future residents of Uptown Parksuites. Hence, it is important to identify what these facilities are that could cater to your basic needs. For your shopping needs, there are plenty to choose from within Bonifacio Global City and the nearby areas, such as S&R Membership Shopping, Serendra, Bonifacio High Street, The Piazza – Venetian Mall, Rockwell, Greenbelt, and Glorietta. If you need to dine out and socialize with friends, there are also plenty of restaurants to choose from in the area. The Burgos Circle alone gives you plenty of options such as Bugsy's Bar & Bistro, Locavore, Frank & Dean, Tipsy Pig Gastropub, and Rue Bourbon.
When it comes to your medical and health needs, you can find plenty of prestigious hospitals within the area. The most notable of them is St. Luke's Medical Center. Meanwhile, there are several notable educational institutions within the area namely International School Manila, British School Manila, Treston College, University of the Philippines in BGC, and De la Salle University.
Grand Hyatt Hotel
St. Lukes Medical Center Global City.
S&R Global City
Bonifacio High Street
C-5 exit (2 mins)
McKinley Hill (10 mins)
Ayala Makati (10 mins)
NAIA (15mins)
Eastwood (15mins)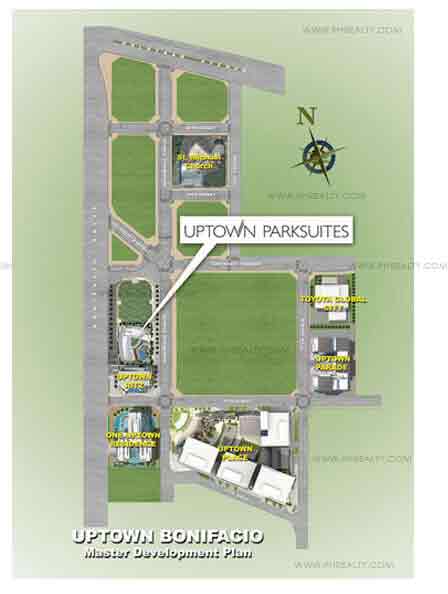 To reinforce its status as the commercial and business center in Metro Manila, BGC is also home to many corporate offices such as the Lexus and Toyota showrooms, upcoming Grand Hyatt Hotel, The Palace Pool Club, and Sutherland Corp. There are also several foreign embassies located within a few minutes from Uptown Parksuites and that of the Bonifacio Global City. Other notable attractions or institutions located nearby are the Manila Polo Club, Manila Golf Course, and Forbes Park.